Join us at the Economic Development Summit on Thursday, June 20 for a breakout session discussing exciting developments in entertainment programming for Hollywood and strategies to attract local residents as well as tourists. The panel will feature The Pantages Theatre's Amelia Heape, The Hollywood Roosevelt's Don Jacinto, and The Los Angeles Philharmonics' Laura Connelly. Moderated by Counterintuity's Lee Wochner.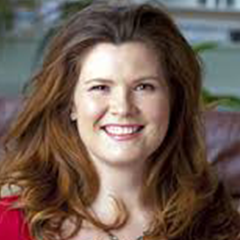 Amelia J. Heape, Director of Marketing, Hollywood Pantages Theatre
Amelia J. Heape is Director of Marketing at the historic Hollywood Pantages Theatre, a Nederlander Theatre and the foremost presenter of first-class Broadway touring productions in Los Angeles. Her expertise in theatrical marketing (with a focus on Broadway), advertising, media, and sales is backed by a successful career that began in New York City at The Public Theatre, SpotCo Advertising (Broadway agency), and TheaterMania/Ovation Tix. In 2009, she moved to Los Angeles and became Associate Director of Marketing at Center Theatre Group. Her 20+ years of experience in live entertainment marketing informs her work and her goal of strengthening theatregoing and economic growth in Hollywood, particularly as the Hollywood Pantages embarks on its inaugural "Broadway in Hollywood" 2019-20 season with the Dolby Theatre.
Don has over 25 years of experience in the hospitality industry. He has held leadership roles in luxury hotel chains in Boston, Chicago, New York, Toronto, and Los Angeles. In 2008, Don joined the Hollywood Roosevelt which was the flagship of Thompson Hotels.  Don also had roles as Regional VP for King & Grove Hotels and GM for Commune Hotels in more recent years.  In 2014, Don joined EDITION Hotels, a luxury lifestyle hotel concept created by Ian Schrager and Marriott International and oversaw the launch and opening of the New York EDITION in 2015 as General Manager while there he also supported the opening of the Miami Beach EDITION. Now overseeing a Hollywood landmark, Don and the Hollywood Roosevelt play host to a number of high profile events in the Los Angeles area.
Laura Connelly is the Vice President of Presentations for the Los Angeles Philharmonic Association (LAPA) overseeing non-classical presentations at the Hollywood Bowl and Walt Disney Concert Hall. LAPA produces and presents over 230 concerts a year at both venues which includes a wide range of music including pop, rock, country, jazz, indie, world music, orchestral pops, a fully staged musical, live music to film, and much more. A former journalist and native of the U.K., she has been with the Association since 1998.
Lee Wochner is the CEO & Creative Strategist of Counterintuity, LLC, a creative marketing agency in Burbank, CA established in 2007 and with clients across the U.S. Counterintuity has won 34 awards for its work in the field, including many peer-jury-awarded MarCom Awards, Communicator Awards, and W3 Awards, recognition as California Small Business of the Year. His experience in marketing and strategy includes client work ranging from small and medium-sized businesses to large entities in the public and private sectors. Client engagements include PBS SoCal; the California statewide ballot initiative Proposition 21 (Yes for State Parks); City National Bank; the University of Southern California; Boeing; the Cities of Los Angeles, Santa Monica, and Burbank; the State of California; the San Mateo County Silicon Valley Convention & Visitors Bureau; the Santa Monica Convention & Visitors Bureau; Third Street Promenade in Santa Monica; Cusumano Real Estate Group; Center Theatre Group; Pasadena Symphony and POPS; and the online stores and/or email marketing for numerous entertainment acts, including Britney Spears, Hoobastank, Emmylou Harris, and Kathy Griffin.He sits on several boards, including the executive committees of the Community Foundation of the Verdugos (chair emeritus), the Burbank Chamber of Commerce (chair emeritus), and Moving Arts, a theatre he co-founded in 1992, and is past chair of Leadership Burbank.  He is also an award-winning playwright who has served as a PEN West judge (drama division) and a panelist and workshop leader at the annual Great Plains Theatre Conference in Omaha, Nebraska.  Prior to starting Counterintuity, he was a theatrical producer and later served as founding President & CEO of LA Stage Alliance, the performing arts service organization serving Los Angeles.
He is recognized by the State of California as a "California Thinker."