Join us on this culinary journey as we explore some of Hollywood's best food hotspots! This week, we're tasting some of Wood & Vine's best bites.
Located behind the historic Taft Building and right across from the Pantages Theater, this restaurant is Hollywood's gem!" -  Yelp Review.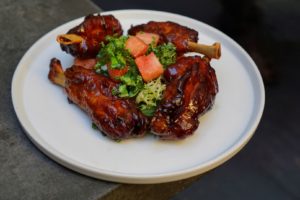 A gem indeed! Opened in 2011, Wood & Vine has served as one of the Boulevard's premier New American restaurant and cocktail bar.  On the menu, you'll find market-driven seasonal shared plates, craft cocktails, and local small-batch wines and beers.  They strive for excellence, using only proteins and fish that are sustainably and humanely raised, and ensuring that all of their produce is either sourced locally or organic to the greatest extent possible.
Their team always strives to create a warm and inviting atmosphere, where great hospitality is their most pressing objective. This was evident the second we walked through the door and were greeted by their friendly and incomparable General Manager, Wally Moran. He greets with a smile and engages in witty banter as he guides you to your seat. There's no one like Wally!
From their legendary Pork Shanks to their sublime Butterscotch Pot de Crème, Executive Chef Rick Sipovic makes sure that there's nothing on the menu you won't enjoy! With a background in biochemistry, Chef Rick has an intuitive understanding of the chemical reactions necessary to elevate comfort food to the next level.Their cocktails give classic Hollywood drinks a modern twist (literally when it comes to some drinks) and just like their food menu, this list is always evolving
Next time you're hungry for some good food and great hospitality (or looking for a good dinner before a show at the Pantages), stop by Wood & Vine!