Hollywood's community and business leaders convened for "Brunch with L.A. Mayor Eric Garcetti" hosted by the Hollywood Chamber of Commerce on Wednesday, October 17th at the Hilton Los Angeles/Universal City. "We are delighted to once again meet with Mayor Garcetti and to discuss issues facing Hollywood and Los Angeles," said Chamber President & CEO Leron Gubler. "With Mayor Garcetti having represented Hollywood for 12 years on the City Council, we have always had a special relationship with him. He knows our issues very well."
Addressing the Chamber for the third year in a row, Mayor Garcetti discussed some of the key changes taking place in Los Angeles. Garcetti discussed transportation, homelessness, entertainment industry, development, and community plans. He said it was critical that we continue adding in the right place the density that we need. He discussed the need to upzone, and mentioned the transit-oriented communities laws which he put forward last year that would allow transit stops additional density. He talked about bridge home as the way to house people now, and was pleased to see the building of bridge home in Hollywood. Garcetti also noted the extension of the Film & Television Tax Credit Program 2.0 and bringing entertainment industry jobs back to California.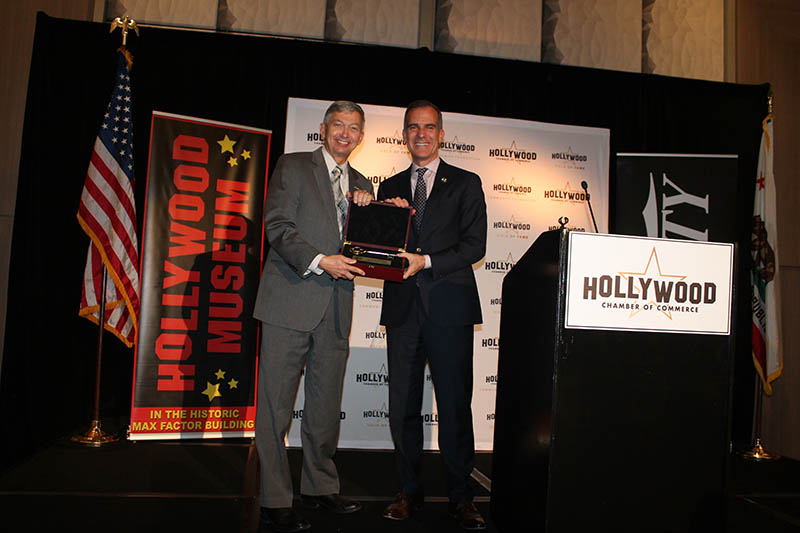 At the end of his address, Garcetti presented the key to the City of Los Angeles to Leron Gubler, President & CEO of the Hollywood Chamber of Commerce commending his dedication and service to the Hollywood Chamber and the Hollywood community.
Eric Garcetti is a fourth-generation Angeleno and the 42nd Mayor of Los Angeles. Born and raised in the San Fernando Valley — the son of public servants and the grandson and great-grandson of immigrants from Mexico and Eastern Europe — Mayor Garcetti's life has been shaped by a deep commitment to the core values of justice, dignity, and equality for all people.
Presenting Sponsor of this event was Hollywood Museum in the Historic Max Factor Building; Partnering Sponsor was Pantages Theatre – Nederlander West; Platinum Sponsor was Variety.
Gold Level sponsors included Clear Channel Outdoor, Emerson College Los Angeles, Film L.A., Inc, The Harman Press, Hilton Los Angeles/Universal City, Kilroy Realty Corporation, Starline Tours. Silver Level sponsors included AT&T, Athens Services, Belmont Village of Hollywood Hills, Capitol Music Group, CHA Hollywood Presbyterian Medical Center, Children's Hospital Los Angeles, CIM Group, City National Bank, Comcast|NBCUniversal, Hollywood Hotel, Hudson Pacific Properties, Inc, Los Angeles Tourism & Convention Board, MCS BusinessSource Network, and Pavemint LLC.
Click here to view more photos
Photos by Marlene Panoyan ©Hollywood Chamber of Commerce 2018. All Rights Reserved.
About the Hollywood Chamber of Commerce:
For more than 97 years, the Hollywood Chamber of Commerce has provided leadership, business development resources, networking, and government affairs programs and services to keep the Hollywood business and residential communities safe, relevant and economically vital. Donelle Dadigan is the Chair of the Hollywood Chamber of Commerce Board of Directors 2018-19, and Leron Gubler is the President/CEO of the Hollywood Chamber of Commerce. For more information please visit www.hollywoodchamber.net.
Follow us on Social Media
Twitter: @HollywoodArea
Facebook: HollywoodChamberCA
Instagram: HollywoodChamberofCommerce
LinkedIn: HollywoodChamberofCommerce
#Hollywood #Homelessness #BridgeHousing #EricGarcetti #MayorOfLA #transportation #technology