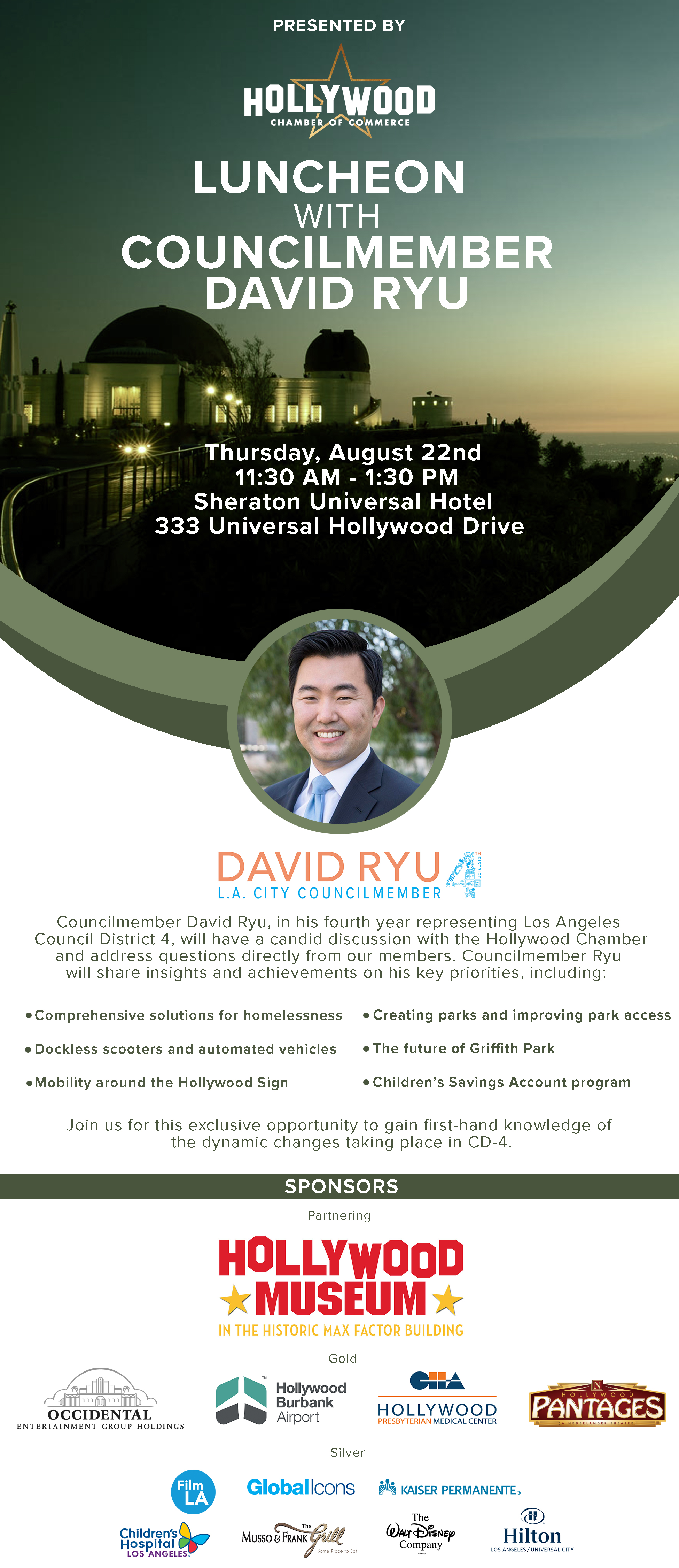 The Hollywood Chamber of Commerce is pleased to announce our Luncheon with Councilmember David Ryu of L.A. Fourth Council District at Sheraton Universal on Thursday, August 22nd.
Councilmember Ryu is the first Korean-American to serve on the L.A. City Council and only the second Asian-American. He studied economics at UCLA; Public Policy and Administration at Rutgers; won a prestigious United Nations graduate internship; and was a Netkal Fellow at USC's School of Social Work. As Senior Deputy to Los Angeles County Supervisor Yvonne Burke, he worked for years on such issues as public health, housing, children and family services, transportation and senior services. He helped oversee the County budget and worked for a time as a Special Investigator for the Auditor-Controller, rooting waste and fraudulent expenditures.
Since taking office, Ryu has been working on initiatives related to Land Use & Infrastructure due to the scale and impact of development which has become one of the most controversial issues in Council District 4. His Clean Streets initiative coordinates various street maintenance efforts and services throughout his District with youth from the area. He also established the Discretionary Funds Task Force which reviews and provides input on the use of discretionary funds.
Ryu has been focusing on restoring trust in government proposing stronger campaign finance regulations and advocating for reform and transparent planning process. His effort to preserve residential neighborhoods helped set new rules to limit mansionization. He called for regulations of loud speakers on tour buses, secured neighborhood traffic improvements, and rescinded Cahuenga Pass Development. His plans also tackle fighting for fiscal accountability, prioritizing community engagement, advocating for neighborhood infrastructure improvements, promoting public health and safety, and building a strong local economy. In his first year, Councilmember Ryu has helped beautify residential neighborhoods, expanded park space in the San Fernando Valley, championed San Fernando Valley transit projects, pushed for overdue street and sidewalk repairs, and enhanced Runyon Canyon's aging infrastructure.
The L.A. Council District 4 includes the neighborhoods of Sherman Oaks, Toluca Lake, Hollywood, Hollywood Hills, Los Feliz, Silverlake, Miracle Mile, Hancock Park, Windsor Square, Larchmont and a portion of Koreatown.
For sponsorship opportunities, please contact Kaylee Kiecker: kaylee@hollywoodchamber.net
 Admission is $90. Register online at hollywoodchamber.net/events.