As California moves towards allowing businesses to safely reopen, we are here to help! On this page, you will find the latest government guidelines, recommendations, resources, and other tools to ensure employers and employees are able to return to work safely and informed.
This page will be regularly updated as new information becomes available.

Before reopening your business for normal operations, the CDC has outlined a list of considerations and best practices to protect your business from liability and to ensure a safe reopening for both your customers and employees.
Comply with any of the Governor's Executive Orders that are in effect.
Know the signs and symptoms of COVID-19 and what to do if employees develop symptoms at the workplace.
Understand how COVID-19 is transmitted from one person to another—namely, through coughing, sneezing, talking, touching, or via objects touched by someone with the virus.
Make health and safety a priority by implementing safeguards to protect employees and the public.
Determine which safeguards are recommended or are required based on the Federal and state guidelines, including sector-specific guidance.
Reduce unnecessary close physical contact (a physical distance of less than (6) six feet between people).
Identify positions appropriate for telework or partial telework, including consideration of telework for employees who are at higher risk for severe COVID-19 complications due to underlying medical conditions identified by the CDC.
Stagger or rotate work schedules or shifts at worksites to ensure employees are able to sufficiently maintain physical distancing.
Consider modifying employee schedules and travel.
Limit non-essential work travel.
Be aware of protected leave requirements and plan ahead for any anticipated workforce adjustments.
Implement workplace safeguards as feasible or when required.
Implement physical distancing measures consistent with the Governor's Executive Orders and state guidance.
Increase physical space between workers. This may include modifications such as markings on the floor demonstrating appropriate spacing or installing plexiglass shields, tables, or other barriers to block airborne particles and maintain distances.
Review and follow any sector-specific guidance issued by the state that recommends or requires specific physical distancing measures.
Restrict the use of any shared items or equipment and require disinfection of equipment between uses.
Reinforce that meticulous hand hygiene (frequent and proper handwashing) is of utmost importance for all employees. Ensure that soap and water or alcohol-based (60-95%) hand sanitizer is provided in the workplace. Consider staging additional handwashing facilities and hand sanitizer for employees (and customer use, if applicable) in and around the workplace.
Regularly disinfect commonly touched surfaces (workstations, keyboards, telephones, handrails, doorknobs, etc.), as well as high traffic areas and perform other environmental cleanings.
Consider upgrades to facilities that may reduce exposure to the coronavirus, such as notouch faucets and hand dryers, increasing fresh-air ventilation and filtration or disinfection of recirculated air, etc.
Consider touchless payment methods when possible and if needed.
PREPARING EMPLOYEES
Employers may encourage or require employee use of cloth or disposable face coverings as indicated by sector-specific guidance. If employers require the use of cloth face coverings, employers must provide cloth or disposable face coverings for employees.
Restrict non-essential meetings and conduct meetings virtually as much as possible.
Limit the number of employees gathering in shared spaces.
Consider regular health checks (e.g., temperature and respiratory symptom screening) if job-related and consistent with business necessity.
Train all employees in safety requirements and expectations at physical worksites.
Be aware of federal and state protected leave and paid leave laws (if applicable) and requirements for health insurance coverage.
Advise employees to stay home and notify the employer when sick.
Healthcare provider documentation is generally not required to qualify under federal and state leave laws due to COVID-19 related circumstances or to return to work.
SICK LEAVE
Ensure that sick leave policies are flexible and consistent with public health guidance and that employees are aware of and understand these policies.
Maintain flexible policies that permit employees to stay home to care for a sick family member or take care of children due to school and childcare closures.
Additional flexibilities might include giving advances on future sick leave and allowing employees to donate sick leave to each other.
Employers that do not currently offer sick leave to some or all of their employees may want to draft non-punitive "emergency sick leave" policies.
Employees who have symptoms (i.e., fever, cough, or shortness of breath) should notify their supervisor and stay home.
Sick employees should follow CDC-recommended steps. Employees should not return to work until the criteria to discontinue home isolation are met, in consultation with healthcare providers and state and local health departments.
Employers should not require a positive COVID-19 test result or a healthcare provider's note for employees who are sick to validate their illness, qualify for sick leave, or to return to work. Healthcare provider offices and medical facilities may be extremely busy and not able to provide such documentation in a timely manner.
Employees who are well but who have a sick family member at home with COVID-19 should notify their supervisor and follow CDC recommended precautions.
WHAT POLICIES MAY BE IMPACTED OR NEED TO BE CHANGED DUE TO THE PANDEMIC?
You will need to implement measures to ensure the health and safety of your employees but may also need to change other policies and practices to accommodate the new normal. A thorough analysis of existing policies should be undertaken to include adjustments made for recent legislation. Some of the policies may include:
Attendance;
Vacation/Paid Time Off;
Remote work;
Work hours, including start/stop time, breaks, lunch times, flexible hours, and staggered work hours;
Timekeeping including clock in/out procedures;
Leave policies including sick leave;
Travel policies including business and personal travel; and
Information technology and usage.
---
For a comprehensive FAQ outlining the labor law complexities, check out Fisher Phillips
"Post-Pandemic Back-To-Business FAQs For Employers"
---
Davis, Wright, Tremaine LLP have created a guide for employers,
"Reopening California: A Guide for Employers"
, that provides an overview of new and key HR issues, considerations employers must make, options employers may have, and a brief summary of new substantive laws or standards.


---
The CDC has issued a decision-tree guideline for when general offices and restaurants/bars are allowed to fully reopen.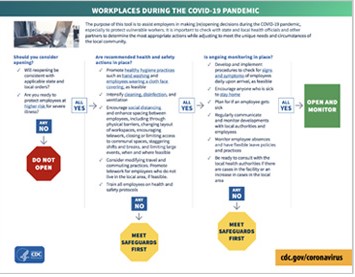 Workplace Decision Tree
Restaurants and Bars Decision Tree
The County of Los Angeles Public Health Department has issued it's own Roadmap to Recovery  to deal with the County's unique risks and control of the pandemic.
The County is regularly updating a list of businesses that are allowed to re-open, listed by date Click Here to Learn More.
After the State of California set minimum standards for local jurisdictions, the Los Angeles County Department of Public Health issued safety protocols that are required for all businesses operating within the City of Los Angeles. The County's required protocols are available for download HERE. Businesses should follow these protocols and directives. Additionally, the City of Los Angeles developed Safer L.A. Toolkits to support businesses operating safely.

CDC GUIDELINES FOR BEST CLEANING AND DISINFECTING PRACTICES
Clean
Wear disposable gloves to clean and disinfect.
Clean surfaces using soap and water, then use disinfectant.
Cleaning with soap and water reduces number of germs, dirt and impurities on the surface. Disinfecting kills germs on surfaces.
Practice routine cleaning of frequently touched surfaces.
More frequent cleaning and disinfection may be required based on level of use.
Surfaces and objects in public places, such as shopping carts and point of sale keypads should be cleaned and disinfected before each use.
High touch surfaces include: Tables, doorknobs, light switches, countertops, handles, desks, phones, keyboards, toilets, faucets, sinks, etc.
---
Disinfect
Recommend use of EPA-registered household disinfectant.
Follow the instructions on the label to ensure safe and effective use of the product.
Many products recommend:Keeping surface wet for a period of time (see product label).
Precautions such as wearing gloves and making sure you have good ventilation during use of the product.
Always read and follow the directions on the label to ensure safe and effective use.
Wear skin protection and consider eye protection for potential splash hazards
Ensure adequate ventilation
Use no more than the amount recommended on the label
Use water at room temperature for dilution (unless stated otherwise on the label)
Avoid mixing chemical products
Label diluted cleaning solutions
Store and use chemicals out of the reach of children and pets
You should never eat, drink, breathe or inject these products into your body or apply directly to your skin as they can cause serious harm. Do not wipe or bathe pets with these products or any other products that are not approved for animal use.
See EPA's 6 steps for Safe and Effective Disinfectant
---
Additional considerations for employers
Educate workers performing cleaning, laundry, and trash pick-up to recognize the symptoms of COVID-19.
Provide instructions on what to do if they develop symptoms within 14 days after their last possible exposure to the virus.
Develop policies for worker protection and provide training to all cleaning staff on site prior to providing cleaning tasks.
Training should include when to use PPE, what PPE is necessary, how to properly don (put on), use, and doff (take off) PPE, and how to properly dispose of PPE.
Ensure workers are trained on the hazards of the cleaning chemicals used in the workplace in accordance with OSHA's Hazard Communication standard (29 CFR 1910.1200).
Comply with OSHA's standards on Bloodborne Pathogens (29 CFR 1910.1030), including proper disposal of regulated waste, and PPE (29 CFR 1910.132).
The U.S. Chamber has launched a new Business Reopening Digital Resources Center, which provides state-specific guidances, industry-specific information, small business reopening advice, a standard employee screening questionnaire, and more.

As a result of the Coronavirus Aid, Relief & Economic Security (CARES) Act, the Federal Reserve has created the Main Street Lending Program to provide a total of $600 billion in financing for small and medium-sized businesses that were in sound financial condition before the onset of the COVID-19 pandemic. While the program's start date has yet to be announced, here's what you need to know to check eligibility and get ready to apply.
Learn More.
Check out the
U.S. Chamber's quick eligibility and borrower criteria.
Under the Paycheck Protection Program (PPP) created by the CARES Act, loans may be forgiven if borrowers use the proceeds to maintain their payrolls and pay other specified expenses. The Treasury Department and Small Business Administration recently released the application form and instructions for loan forgiveness. The forgiveness forms, instructions, and worksheets can be downloaded here.