THE 2022 STATE OF THE STATE | LINEUP
On Friday, September 30, 2022, the Chamber will bring together Assemblymembers and Senators to give insights on state initiatives and how they impact Hollywood and Southern CA. Considering the importance of our current year in politics, this candid conversation will be paramount to uncovering what's at stake for the State of California.
We proudly announce that our Keynote Speaker will be Honorable Fiona Ma, California State Treasurer. Additionally, Elex Michaelson from Fox 11 News will moderate the panel, and the Chamber will recognize the Los Angeles Rams for their contribution to the State of California in 2021 & 2022. This event is expected to sell out with our incredible political lineup, so be sure to register today.
KEYNOTE SPEAKER | FIONA MA, CALIFORNIA STATE TREASURER
Fiona Ma is California's 34th State Treasurer. She was elected on November 6, 2018 with more votes (7,825,587) than any other candidate for treasurer in the state's history. She is the first woman of color and the first woman Certified Public Accountant (CPA) elected to the position. The State Treasurer's Office was created in the California Constitution in 1849. It provides financing for schools, roads, housing, recycling and waste management, hospitals, public facilities, and other crucial infrastructure projects that better the lives of residents.
One committee Treasurer Ma chairs, the California Alternative Energy and Advanced Transportation Financing Authority (CAEATFA), helps clean and green our state. It awards sales tax exclusions for manufacturers that reduce pollution, while retaining jobs, including to companies that make electric vehicles, turn farm waste into energy, and produce jet fuel out of renewable sources.
California is the world's fifth-largest economy and Treasurer Ma is the state's primary banker. Her office processes more than $2 trillion in payments within a typical year and provides transparency and oversight for an investment portfolio of more than $124 billion, approximately $34.8 billion of which are local government funds. She also is responsible for $93 billion in outstanding general obligation and lease revenue bonds of the state.
In 2020 the State Treasurer's office was the agent of sale for about $20 billion in debt, which financed many building projects that created thousands of construction jobs. Of that debt, $6.2 billion refinanced previous debt, creating a present value savings of $1.8 billion for California taxpayers.
Most recently before being elected Treasurer, she was an elected member of the California Board of Equalization from 2015 until January 2019 and worked to protect the rights of taxpayers while ensuring California collected its fair share of tax revenues. Her district covered 23 counties in California and included approximately 9.5 million people. Upon being selected Chairperson of the Board of Equalization in 2016, she ordered three external audits of the agency and helped lead the biggest reforms for accountability and efficiency in that agency's history.
A top priority for her on the Board of Equalization was ensuring that everyone pays their fair share of taxes, including efforts to require online-retailers such as Amazon to collect sales taxes on transactions from third-party sellers in order to help local brick-and-mortar retailers compete – ultimately generating new revenues estimated between $431 million and $1.8 billion for California every year. She also advocated for taxing e-cigarettes similarly to other tobacco products – deterring vaping and smoking and paying for health costs related to tobacco use. In 2017, voters passed Proposition 56 with two-thirds of the vote, collecting $1.7 billion in new tobacco taxes to fund anti-smoking programs and Medi-Cal payments for the poor.
Also while on the Board of Equalization, she identified the cannabis industry as the largest shadow economy in California with "hundreds of millions of dollars that disappear into an underground cannabis economy" and led efforts to regulate the industry, develop systems to "track and trace" all cannabis in California, and develop legal banking mechanisms for cannabis businesses.
Treasurer Ma was a member of the State Assembly from 2006-2012, serving as Speaker pro Tempore from 2010 to 2012. She built a reputation as a solution-oriented public servant and was adept at building unlikely coalitions to overcome California's most complex problems. Prior to serving as Speaker pro Tempore, she was Assembly Majority Whip and built coalitions during a state budget crisis to pass groundbreaking legislation that protected public education and the environment while also expanding access to health care.
As an Assembly Member, she authored 60 bills that were signed into law by two different governors – most were first-in-the-nation and required no taxpayer money. Her successful legislation to ban toxic chemicals in baby products, known as phthalates, became a model for federal legislation that was authored by U.S. Senator Dianne Feinstein in 2008. She chaired the Assembly Select Committee on Domestic Violence and spearheaded legislation that strengthened laws protecting victims of domestic violence, consumers and working families; prevented the spread of Hepatitis B; increased access to quality healthcare; and, provided equal rights for all Californians.
From 2002-2006, she served on the San Francisco Board of Supervisors and championed a human rights campaign to end human trafficking in massage parlors and to close prostitution rings. She led an effort to create the city's Disadvantaged Business Enterprise program to empower small businesses to more easily participate in public works projects.
Treasurer Ma first became involved in public service in 1994 when she was elected president of the Asian Business Association, where she began advocating at San Francisco City Hall and the State Capitol on behalf of minority business owners. Her work resulted in her election in 1995 as a delegate to the White House Conference on Small Business, where she advocated for socially responsible contracting for minorities and women in San Francisco, ultimately producing a report to Congress detailing 60 top policy recommendations to help small businesses grow and prosper in the 21st century.
Also in 1995, she was appointed to the Assessment Appeals Board of San Francisco by the San Francisco Board of Supervisors. That year she started her public service career as a part-time district representative for then-State Senator John Burton and served as Burton's district representative until her election to the San Francisco Board of Supervisors. For Burton, she was responsible for helping constituents with Medi-Cal, Workers' Compensation, Unemployment Insurance, Franchise and Employment Development Department taxes, and professional licensing.
From 1989-93 she worked for Ernst & Whinney, in the real estate tax group, before starting her own accounting practice in San Francisco. Today Ernst & Young is one of the largest professional services firms in the world and considered one of the "big four" accounting firms.
Treasurer Ma has been a licensed CPA in California since 1992 and holds a Bachelor's Degree in Accounting from the Rochester Institute of Technology (NY), a Master's Degree in Taxation from Golden Gate University (SF), and an MBA from Pepperdine University.
She is a Member of the Vatican's Council for Inclusive Capitalism, Member of the California Society of Certified Public Accountants, serves on the Board of California Women Lead, is an Honorary Chair and Spokesperson for the San Francisco Hepatitis B Free Campaign, and is a member of the Screen Actors Guild. Treasurer Ma is also active with the National Association of State Treasurers (NAST): 2020 Chair of ABLE Committee and Member of the Legislative Committee; and a member of the CalCPA society. She is married to Jason Hodge, a full-time firefighter and Oxnard Harbor Commissioner.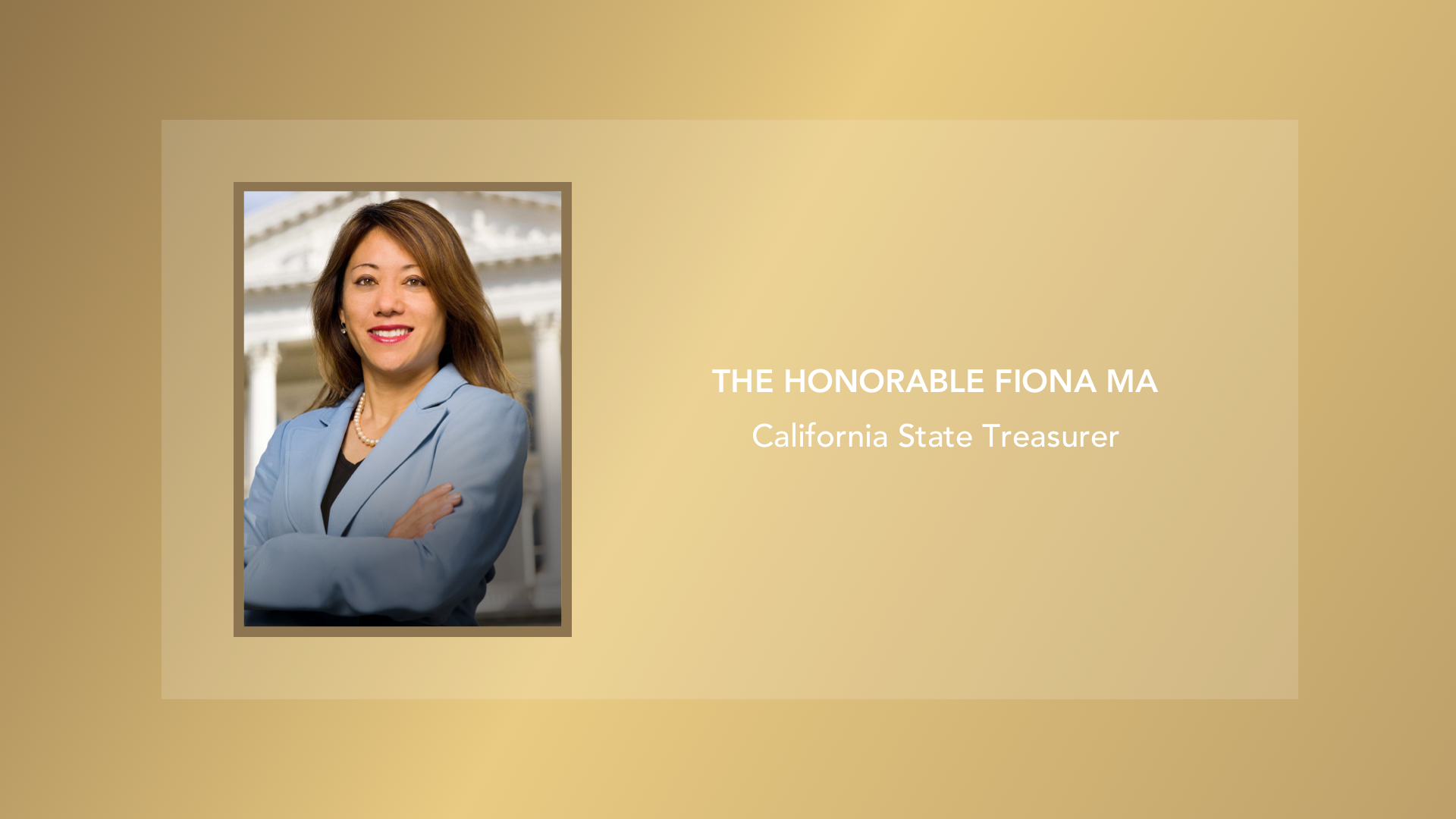 MODERATOR | ELEX MICHAELSON, CO-ANCHOR FOX 11 NEWS
Elex Michaelson co-anchors FOX 11 News weeknights at 5 p.m., 6 p.m. and 10 p.m. with Christine Devine. He co-hosts the "FOX 11 Special Report" with Marla Tellez weeknights at 6 p.m. Elex also hosts and produces the political talk show The Issue Is, which airs on stations throughout the state of California.
PRESENTER | MIKE O'KEEFE, VP OF PARTNERSHIP DEVELOPMENT, LA RAMS
Mike is entering his 24th season with the Rams and has held numerous positions with the team during his tenure and works closely with the Rams Foundation.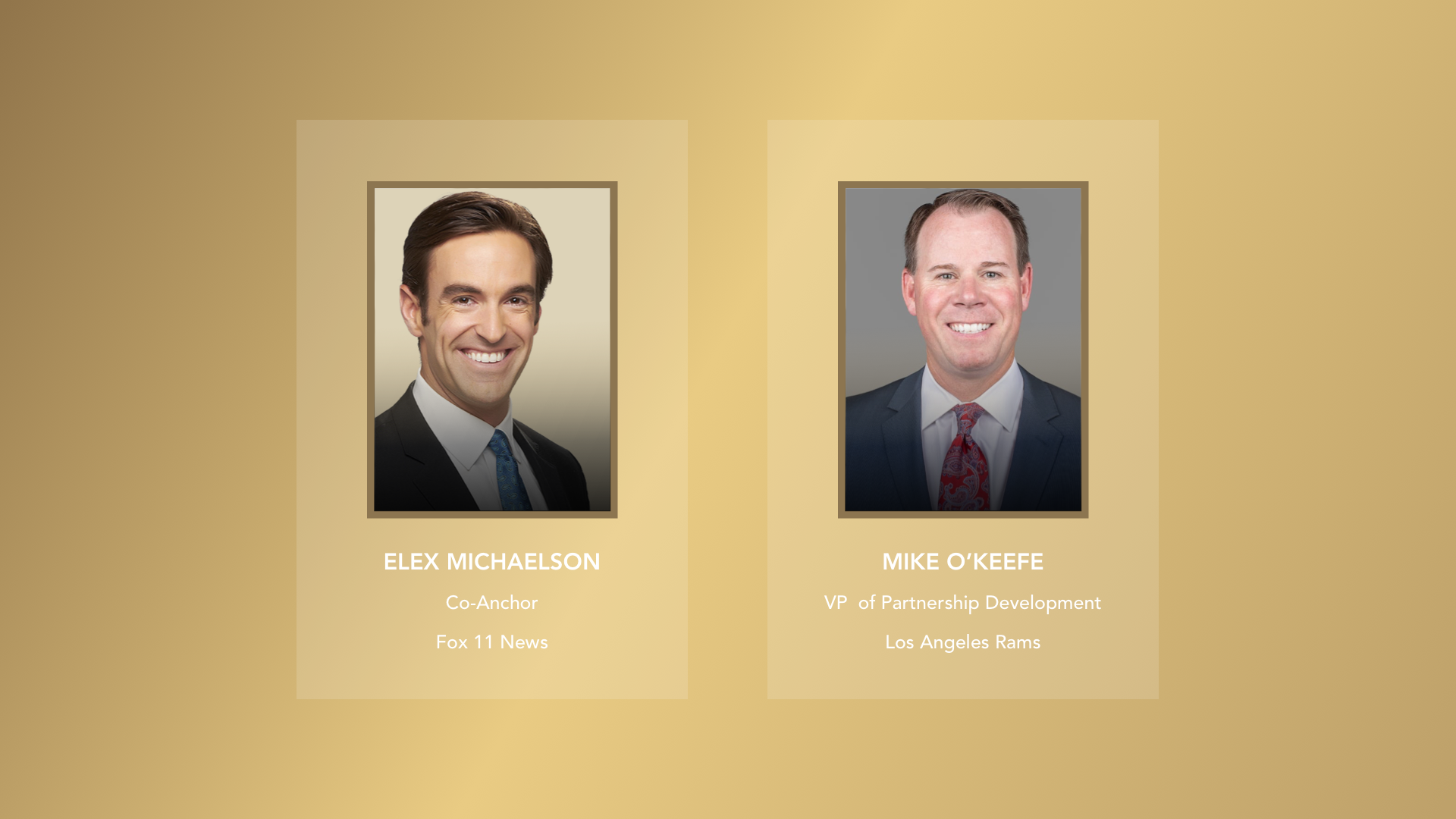 PANELIST | SENATOR MARIA ELENA DURAZO, SENATE DISTRICT 24
María Elena Durazo serves as the State Senator to California's 24th District. Her priorities and accomplishments in the legislature include uplifting immigrants' and workers' rights, reforming the criminal justice system, and preparing California's workforce for the 21st century. She is immediate past Chair of the California Latino Legislative Caucus, made up of 34 members from across California, representing the largest ethnic Caucus in the state. She is also chair of the Senate Budget Subcommittee #5, which oversees state departments on Labor, Transportation, Corrections, Public Safety, and the Judiciary. Senator Durazo spent most of her life in the labor movement, serving in various leadership roles with UNITE-HERE International, Los Angeles Federation of Labor, AFL-CIO, and the National AFL-CIO Executive Council. She also served as the Vice Chair of the Democratic National Committee and as the National Co-Chair of the Barack Obama Presidential Campaign.
Senator Durazo was born the seventh child in a family of 11 children to migrant farm worker parents. They followed crops throughout California and Oregon, experiencing the hardships that migrant laborers suffer. She graduated from St. Mary's College, where she became involved in the Chicano Movement. She also has a juris doctorate from the People's College of Law.
PANELIST | SENATOR BEN ALLEN SENATE DISTRICT 26
State Senator Ben Allen represents the 26th Senate District covering the Hollywood, West Hollywood, Westside, and coastal South Bay communities of Los Angeles County. An advocate for California's leadership in arts and entertainment, Senator Allen serves as chair of the Legislature's Joint Committee on the Arts and as an advisory board member of the California Film Commission. He also chairs the Senate Environmental Quality Committee and the Legislative Environmental Caucus, in addition to serving on standing committees focused on transportation, governmental organization, and natural resources and water. An attorney and former school board member, Senator Allen has authored crucial legislation in the areas of economic development, environmental protection, climate change, green transit, educational equity, government transparency, and electoral reform. He is a son of teachers and holds degrees from Harvard, Cambridge, and UC Berkeley. He and his wife Melanie have one young son.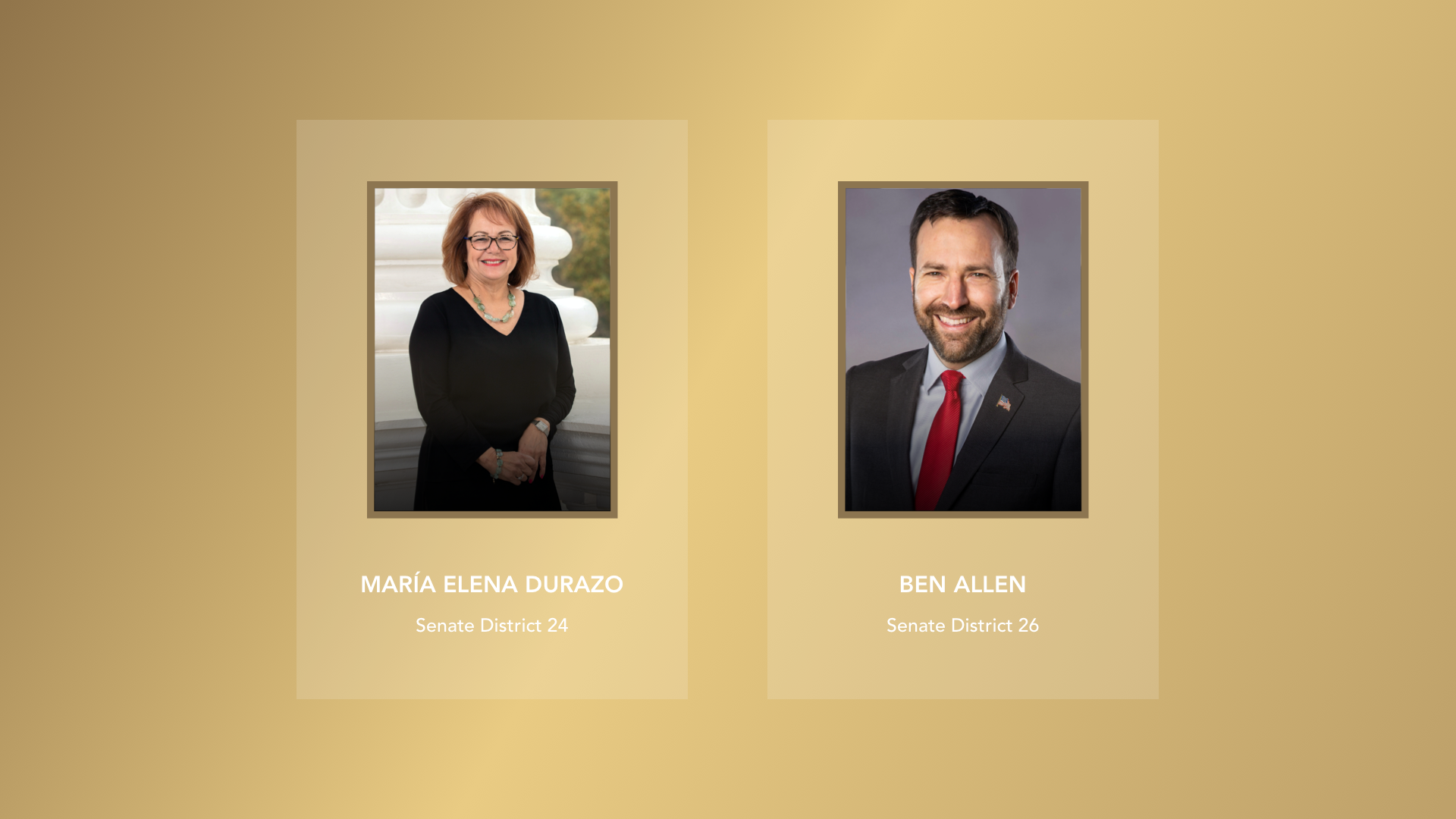 PANELIST | ASSEMBLYMEMBER LAURA FRIEDMAN, ASSEMBLY DISTRICT 43
Laura Friedman represents the 43rd Assembly District, which encompasses the cities of Burbank, Glendale, and La Cañada Flintridge, as well as the communities of La Crescenta and Montrose, and the Los Angeles neighborhoods of Atwater Village, Beachwood Canyon, Los Feliz, East Hollywood, Franklin Hills, and Silver Lake.
Laura's legislative work is focused in three primary areas: addressing the housing affordability and homelessness crisis, combating climate change, and protecting vulnerable communities. Long recognized as a steadfast advocate for the environment, sustainable communities, and active transportation, in 2020 she was appointed to serve as the Chair for the Assembly Committee on Transportation. Her appointment as Chair marked a shift towards forward-thinking policies, including investing in mass transit, bicycle and pedestrian infrastructure, zero-emission vehicles, road safety, and sustainability.
Laura got her start in the private sector working as a film and television executive and producer. Building on her years of community service, she was elected to the Glendale City Council in 2009, where she served as Mayor from 2011 through 2012 and was re-elected in 2013.
PANELIST | ASSEMBLYMEMBER MIGUEL SANTIAGO, ASSEMBLY DISTRICT 53
Miguel was born in Los Angeles to hardworking immigrant parents. He was the first in his family to graduate from college, earning his degree at UCLA. At a young age, Miguel jumped into community organizing and public service.
Miguel has represented Assembly District 53 since 2014 (DTLA, KTown, Boyle Heights, Huntington Park and the surrounding area). He is leading efforts to secure billions of dollars to fight homelessness — the humanitarian crisis in our midst. He continues to work on expanding childcare, has authored some of California's toughest gun safety regulations and fights for the fair and equal treatment of hardworking families. An environmental justice champion, Santiago has delivered hundreds of millions of dollars to urgently clean up the toxic contamination caused by Exide Technologies in the City of Vernon. He has not let up as he fought to expand food options for low-income Californians and help California's small business build back stronger during our pandemic recovery.