Our Lunch Bunch Launch!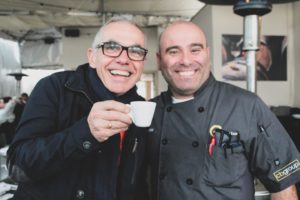 On Wednesday, February 20th, the Chamber unveiled its newest networking opportunity, Lunch Bunch at one of Hollywood's finest Italian eateries, Fabiolus Cucina!  Lunch Bunch, is a bi-monthly networking opportunity highlighting valued Hollywood restaurants while cultivating member-to-member connections.
At Fabiolus', Lunch Bunch attendees enjoyed an array of Italian dishes including the Truffle Pizze, Fusilli Mushroom pasta, and the seafood Marina salad.  President/CEO, Rana Ghadban and Chair of the Board, Donelle Dadigan were in attendance to connect with attendees and facilitate member introductions.
Members who attend Lunch Bunch receive lunch at a discounted rate and the opportunity to be featured on the Hollywood Chamber's social media. We look forward to connecting with you at our next Lunch Bunch in April!