Hollywood's leaders and business community communed to hear California State Senate President pro Tempore Emeritus Kevin de León address members of the Hollywood Chamber of Commerce at his fourth State of the State Luncheon on Friday, August 17th, at Paramount Pictures.
He noted the Legislative victories in California which made real progress building an economy that works for all Californians standing up for each other, health, the planet and for the rights of immigrants and working families… He discussed climate leadership with SB 100, housing and the humanitarian issue of homelessness, building more green spaces with Prop 68, and the extending of the incredibly effective Film & TV Tax Credit program to 2025.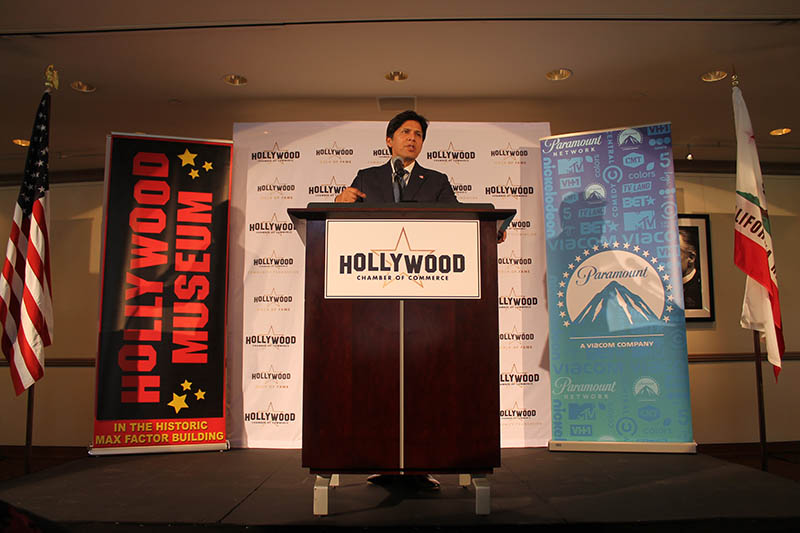 On Legislative victories in California:
"We are focused on lifting each other up. We stand up for each other.  For our health. For the planet – the air we breathe, the water we drink. For the rights of immigrants and working families… We've made real progress building an economy that works for all Californians."
On building on California's legacy of climate leadership with SB 100:
"My bill to require 100% clean, renewable and zero-carbon energy for California by 2045. It's an ambitious goal, no doubt. But it's also within our power to reach it. The target is 28 years from now… That's the type of opportunity we have today, right here in California, with clean energy. We've turned clean energy into a pillar of our economy that supports over 500,000 California jobs – In fact, there are ten times as many people working in clean energy in California, as there are coal jobs in the entire nation."
On Housing and Homelessness in California:
"This is not a political issue – it is a humanitarian issue. It can impact our neighbors, our families, and our friends regardless of who they are or where they come from. A law I authored in 2016, No Place Like Home, would have put $2 Billion to work – housing the chronically homeless, and providing wraparound services for those struggling with mental illness. That law has unfortunately been tied up in the courts. But struggling Californians cannot wait – we need those resources now. So this year, I worked with my Republican colleague, Senator John Moorlach, to put that $2 billion on the ballot in November – and it is my sincerest hope that the people of this great state will embrace our efforts."
On PROP 68:
"I am grateful that millions of Californians voted on June 5th to put $4 billion – with a capital "B" – to build more green spaces in our cities with Prop 68. That money will protect our environment, shore up our flood protection infrastructure, and make sure every California has access to clean drinking water for years to come. But this isn't just about giving our children more green spaces and parks where they can learn and play. Proposition 68 is about creating good-paying jobs that put people to work. Our economy may have just breezed past Great Britain to become the 5th largest in the world, but our work is not done. There are still too many Californians who struggle to find a job. So it's important that we act quickly, and start investing this money as soon as possible."
On Film & Tax Credit Program:
"An issue that's a bit closer to home for all of you is the Hollywood Tax Credit program. In fact, just this year – we extended this incredibly effective program to 2025. And just this year, 19 films will receive more than $52 million dollars in tax credits – expected to generate $258 million in pay for hardworking Californians. These credits will put classic, beloved stories like "A Wrinkle in Time" and "Call of the Wild" on silver screens across the nation. And we sent a clear signal that there is absolutely no room for sexual assault and harassment in this industry by requiring applicants to provide training, hotlines for reporting harassment, and well-defined avenues for victims of harassment to seek help. Here's the kicker, folks: this year's tax credits translates to jobs for more than 26,000 people. Ten of those films will shoot outside Los Angeles, helping to grow our economy and put people to work throughout the state. Because of this film tax credit, California is upstaging cities like Philadelphia – and states like New Jersey – studios are actually re-writing projects to be set right here in the Golden State. This tax credit – thanks in no small part to the hard work of the Hollywood Chamber – are either reuniting families, or keeping them together. We've made it clear that no one – and I mean NO ONE is going to out-compete us."
Watch the livestream and hear his complete address
Senator de León is the 50th President pro Tempore of the California State Senate and the first Latino elected to the position in more than 130 years. He has been serving Hollywood since 2006, when he was first elected to represent the 45th district in the California State Assembly. In 2010, he was elected to the California State Senate. He was the lead negotiator for the expansion of California's Film and Television Tax Credits to keep Hollywood production jobs at home in the Golden State. He has focused his efforts on issues impacting the environment, the working poor, immigration, and public safety.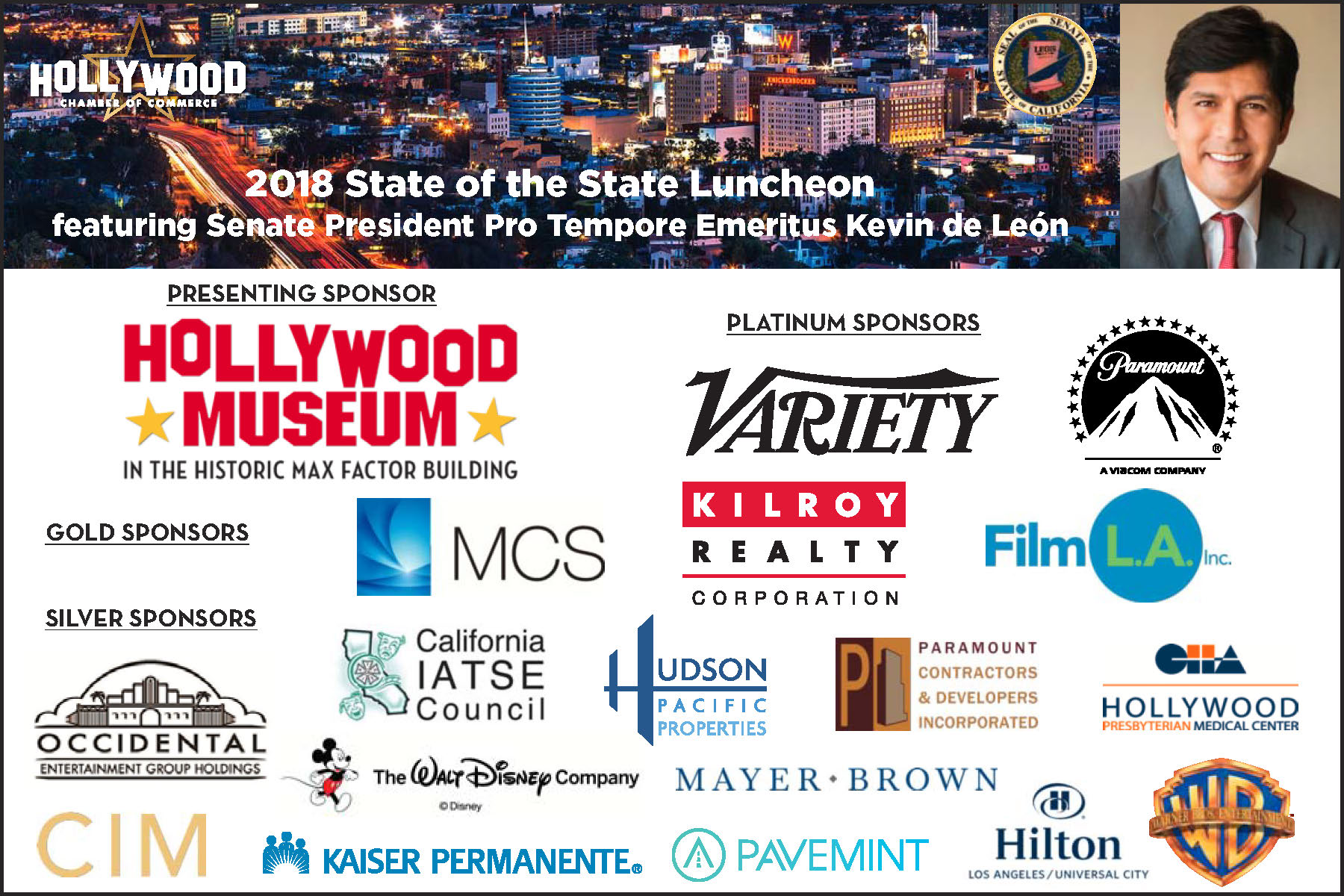 The Hollywood Chamber appreciates the partner businesses who supported this luncheon. Sponsors included Presenting Sponsor Hollywood Museum in the Historic Max Factor Building, and Platinum sponsors Paramount Pictures and Variety. Gold Level sponsors include FilmL.A., Inc., Kilroy Realty Corporation, MCS BusinessSource Network. Silver Level sponsors include California IATSE Council, CHA Hollywood Presbyterian Medical Center, CIM Group, Hilton Los Angeles/Universal City, Hudson Pacific Properties, Kaiser Permanente, Mayer Brown, Occidental Entertainment Group Holdings, Paramount Contractors & Developers, Pavemint LLC, The Walt Disney, Warner Bros.
View more photos from the 4th Annual State of the State Luncheon
Photos by Marlene Panoyan ©2018 Hollywood Chamber of Commerce. All Rights Reserved.
About the Hollywood Chamber of Commerce – www.hollywoodchamber.net
For more than 97 years, the Hollywood Chamber of Commerce has provided leadership, business development resources, networking, and government affairs programs and services to keep the Hollywood business and residential communities safe, relevant and economically vital. Donelle Dadigan serves as the Chair of the Hollywood Chamber of Commerce Board of Directors 2018-19. Leron Gubler is President & CEO. Kaylee Kiecker is Executive Vice President.
Follow us on Social Media
Twitter: @HollywoodArea
Facebook: HollywoodChamberCA
Instagram: HollywoodChamberofCommerce
LinkedIn: HollywoodChamberofCommerce
@HollywoodArea @CAptEmeritus @kdeleon #StateoftheState #ChamberLuncheon #Hollywood #HollywoodChamber #hollywoodchamber.net