The Hollywood Chamber of Commerce and various celebrity friends, community businesses and volunteers showed their appreciation to our men and women in uniform at the Hollywood Chamber of Commerce's Police and Firefighters Appreciation Day at the Los Angeles Police Department, Hollywood Division on Thursday, September 6th at 1358 N. Wilcox Avenue.
The Chamber's 24th annual Police and Firefighters Appreciation Day returned once again to serve local police officers who do an excellent job working in harmony with the Hollywood firefighters and effectively keep our streets safe. A small way that we, as a community, can give back to these community heroes is to offer a fun afternoon of great BBQ and heartfelt appreciation. Presenting sponsor Avalon Hollywood once again joined us in working cohesively with the Hollywood Chamber along with their executive chef, full staff, and tasty BBQ classics.
The Hollywood Chamber of Commerce has been providing an outdoor barbeque for Hollywood's finest every year for more than two decades. "The event offers the business community an opportunity to personally recognize and honor the incredible hard work of Hollywood's finest heroes," said Leron Gubler, the Hollywood Chamber President & CEO. "We want to show them how grateful the community is for their commitment to public safety."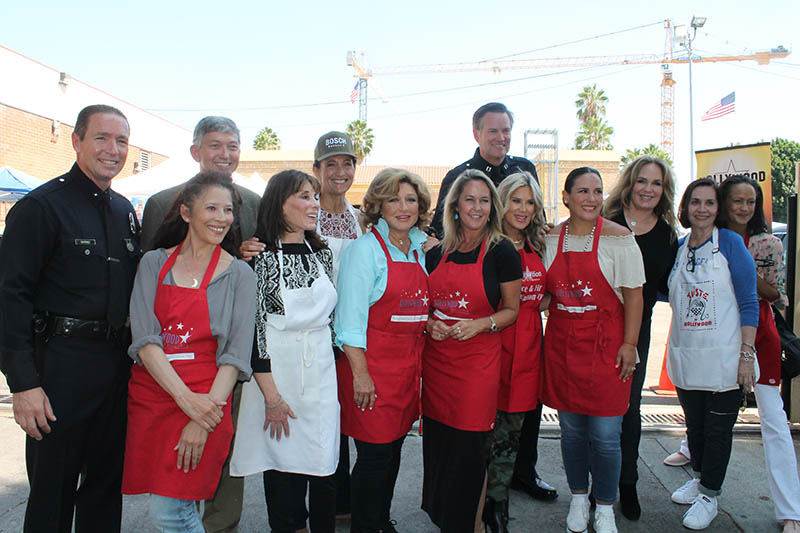 Celebrities who participated in helping serve lunch from 12 p.m. to 2 p.m. included Amy Aquino, Bosch, Working Girl; Tai Babilonia – American Figure Skater, winner of the 1979 World Figure Skating Championships and five U.S. Figure Skating Championships; Catherine Bach – The Dukes of Hazard, The Young and the Restless; Anne-Marie Johnson – actor/activist, Netflix- Wet Hot American Summer: Ten Years Later, also, a daughter of a police officer; Ellen K – Walk of Famer and Radio Personality, KOST 103.5 FM; Kate Linder – Walk of Famer and star of the Young and the Restless; Angélica María – "La Novia de Mexico" Mexico's Sweetheart, world-renowned actress and award-winning singer-songwriter and Walk of Famer; Erin Murphy – Bewitched; Angélica Vale – La Fea Mas Bella actress, comedienne, TV host
Food donors included Avalon Hollywood, Bobby Salazar's Mexican Foods, Inc., Bubba Gump Shrimp Co., Baja Beach Bar, Cabo Cantina, Chick-fil-A, El Capitan, Francesca Verdugo, Good Greek Grill, Hint Water, Jameson Irish Pub, Maggiano's Little Italy, McDonald's Hollywood, Wood & Vine.
Additional donors included Hollywood Museum in the Historic Max Factor Building, Hollywood Historic Trust, Line 204, Power 106 Radio will help keep the energy level high.
Gift certificates were donated by Bliss Spa, Cabo Cantina, Dave & Busters, El Capitan, Hilton Los Angeles/Universal City, Jameson Irish Pub, Mel's Drive-In, Pig n' Whistle, Ripley's Believe It or Not, Wood & Vine.
Like us and view more photos on our Facebook page
About the Hollywood Chamber of Commerce:
For more than 97 years, the Hollywood Chamber of Commerce has provided leadership, business development resources, networking, and government affairs programs and services to keep the Hollywood business and residential communities safe, relevant and economically vital. Donelle Dadigan is the Chair of the Hollywood Chamber of Commerce Board of Directors 2018-19, and Leron Gubler is the President/CEO of the Hollywood Chamber of Commerce. For more information please visit www.hollywoodchamber.net.
Follow us on Social Media
Twitter: @HollywoodArea
Facebook: HollywoodChamberCA
Instagram: HollywoodChamberofCommerce
LinkedIn: HollywoodChamberofCommerce