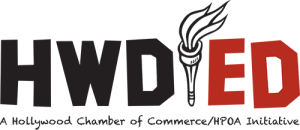 Welcome to Hollywood Ed, a snapshot of post-secondary schools in Hollywood with ties to the entertainment industry and the arts. Hollywood is where dreams are inspired and come to life. It is impossible not to be reminded of this as one walks on sidewalks named for stars, and past buildings that whisper of events gone by that constitute Hollywood's exciting story. Against the backdrop of Hollywood's storied history and promise lies an enclave of post-secondary schools that are preparing today's young adults for careers in the arts and entertainment industry.Hollywood is home to those studying music, recording, film, theatre, acting, make-up, production, costume design, photography, culinary techniques, and more. It is no wonder that these schools have located their operations in the heart of Hollywood's historic core, where every day you will see students taking in all that Hollywood has to offer.
Hollywood Ed is an initiative spearheaded by the following organizations:
www.cd13.com
www.hollywoodchamber.net
www.hollywoodbid.org
www.sunsetandvinebid.org
Learn about our Hollywood Ed Discount Card:
https://hollywoodchamber.net/hwdedcard
Hollywood Ed Discount Card

Fun Facts:
International Dance Academy (IDA) Hollywood is home to "America's Best Dance Crew" and "So You Think You Can Dance."
The American Academy of Dramatic Arts (AADA) alumni boast more than 72 Oscars, 233 Emmy and 83 Tony nominations.
The building that the Los Angeles Film School resides in (6363 Sunset Blvd.) was once RCA's west coast headquarters and was used by legendary artists, such as Elvis and The Rolling Stones. In fact, Elvis released an album in the 70s called "6363 Sunset."
Elegance International was the first established makeup school in the world.
What was once the Max Factor business headquarters now houses the Musicians Institute.
Boston-based Emerson College built its new location in Hollywood: a 10-story, $85-million facility designed by renowned architect Thom Mayne's firm, Morphosis. What used to be a vacant lot on Sunset Boulevard, now houses Emerson's capstone/internship program.
The American Musical and Dramatic Academy (AMDA) students have the unique opportunity to pursue a BFA in Performing Arts at campuses in the heart of Hollywood and the Upper West Side of Manhattan.
The Hollywood ED working group is chaired by Jon Clayden of Emerson College and Elizabeth McDonald of LA Film School. Our post-secondary institutions have united themselves under the banner of Hollywood Ed, and we are proud to present our educational partners:
American Academy of Dramatic Arts
1336 N. La Brea Ave.
Hollywood, 90028
(323)464-2777
(323)464-1250
aada.edu
Program Description: The first conservatory for actors in the English speaking world. Its purpose is to provide students with the tools they need to make acting their profession
Degrees/Certificates Offered: Associate of Arts Degree in Acting, Certificate
of Completion, Advanced Certificate in Actor Training
Length of Program: 2-year, full-time program with an optional third year, summer programs
Total Enrollment: 182
AMDA College & Conservatory of the Performing Arts
6305 Yucca St.,
Hollywood, CA 90028
(323)469-3300
(323)469-1448
amda.edu
Program Description: AMDA has prepared students for careers in the performing arts for 45 years and serves as the only BFA granting institution with a campus in the heart of Hollywood
Degrees/Certificates Offered: 2-year conservatory program, 4-year BFA
program
Length of Program: 2 to 4 years
Total Enrollment: 550
Artworx LA
1140 N. Citrus Ave.
Los Angeles, 90038
(323)465-1404
Elegance International
1622 N. Highland Ave.
Hollywood, 90028
(323)871-8318
ei.edu
Program Description: School of Professional Makeup
Degrees/Certificates Offered: 30 college credits for year-long program, in addition to a certificate
Length of Program: 1 week to 12 months
Total Enrollment: 125
Emerson College
5960 W. Sunset Blvd.
Hollywood, 90028
(323)952-6411
emerson.edu
Program Description: Residential program with a full semester of internship opportunities
Degrees/Certificates Offered: BA, BFA, MA, MFA
Length of Program: 1 semester
Total Enrollment: 100-200
Green School of Hollywood
1547 N. McCadden Pl.
Los Angeles, 90028
(323)219-2725
Hollywood Film & Acting Academy
6715 Hollywood Blvd., Ste 103
Los Angeles, 90028
hwfaa.com
Program Description: Full/part-time film and acting academy, where the film students make feature length films and the acting students act in them
Degrees/Certificates Offered: Certificate of Film, Certificate of Acting
Length of Program: 4 to 12 months
Total Enrollment: 25
Hollywood Studio Makeup
1438 N. Gower St.
Hollywood, 90028
(323)465-4002
www.studiomakeupacademy.com
Howard Fine Acting Studio
317 N La Brea Ave.
Los Angeles, 90036
(323)965-1488
info@howardfine.com
International Dance Academy Hollywood
6755 Hollywood Blvd., Ste 200
Los Angeles, 90028
(323)463-8865
(323)962-3554
www.idahollywood.com
Degrees/Certificates Offered: One-stop facility for all styles of dance
Total Enrollment: 500+
International Institute of Film and Acting
7119 W. Sunset Blvd.
Hollywood, 90046
(213)286-2550
www.studyhollywood.com
Kings Colleges
1555 Cassil Place
Los Angeles, 90028-7105
(323)963-5311
(323)963-5288
www.kingscolleges.com
Los Angeles Film School
6353 Sunset Blvd.
Hollywood, 90028
(323)860-0789
www.lafilm.com
Program Description: Programs immerse students in the entertainment industry by providing an education which allows them to discover their individual voices through collaboration and experience
Degrees/Certificates Offered: Associates of Science Degrees in Film, Game Production and Computer Animation
Length of Program: 13 to 18 months
Total Enrollment: 425
Los Angeles Recording School
6690 Sunset Blvd.
Hollywood, 90028
(323)860-0789
www.larecordingschool.com
Program Description: Provides one of the best training grounds for students to learn all aspects of recording session procedures
Degrees/Certificates Offered: Recording Engineer Certificate
Length of Program: 9 to 12 months
Total Enrollment: 450
Los Angeles Center of Photography
1515 Wilcox Ave.
Los Angeles, 90028
(323)464-0909
www.juliadean.com
Los Angeles City College
855 N. Vermont Ave.
Hollywood, 90029
(323)953-4000
(323)953-4009
www.lacitycollege.edu
Program Description: LACC is an urban oasis of learning that educates minds, opens hearts, and celebrates community
Degrees/Certificates Offered: Associates Degrees – credit and non-credit vocational certificate programs
Length of Program: 2-year degree programs, certificates run both short and long-term programs
Total Enrollment: 16,119
The Los Angeles Film School
6363 Sunset Blvd.
Hollywood, 90028-7317
(323)860-0789
(323)468-8307
www.lafilm.edu
Musicians Institute
6752 Hollywood Blvd.
Hollywood, 90028
(323)462-1384
(323)462-1575
www.mi.edu
Program Description: Education for careers in the contemporary music industry, including performance, audio production, etc.
Degrees/Certificates Offered: Bachelor of Music, Associate of Arts,
various certificates
Length of Program: 2 to 12 quarters
Total Enrollment: 1250
Napoleon Perdis Cosmetics Inc.
6615 Hollywood Blvd.|
Hollywood, 90028
(323)817-3600
(718)425-8993
www.napoleonperdis.com
Program Description: Professional Makeup Artist Academy
Degrees/Certificates Offered: 3-week certificates in fashion, glamour and
bridal. 1-day to 1-week classes and workshops are offered as well
Length of Program: 1 day to 3 weeks
Paul Green's School of Rock Music
7801 Beverly Blvd.
Los Angeles, 90036
(323)999-1919
www.schoolofrock.com
SAE Institute of Technology
6700 Santa Monica Blvd.
Los Angeles, 90038
(323)466-6323
(323)466-6321
www.sae-la.com
Program Description: Education for audio, post production, and film industries with a focus on Hands-on training
Degrees/Certificates Offered: Audio Tech. Digital Film, Electronic Music,
Digital Film Editing
Length of Program: 3 to 18 months
Total Enrollment: 150
The Second City Hollywood
6560 Hollywood Blvd., Fl 2
Hollywood, 90028-6217
(323)464-8542
(323)464-1861
www.secondcity.com
Program Description: Known as the "Ivy League of Comedy," The Second City
Training Center provides improv training in comedy, acting, writing, music, sitcom
writing, commercial audition, and advanced studies
Total Enrollment: 400
Stella Adler Academy of Acting & Theatres – Los Angeles
6773 Hollywood Blvd., Fl 2
Hollywood, 90028-4623
(323)465-4446
(323)469-6049
www.stellaadler-la.com
Program Description: Intensive individual classes and 2-year program. All work is based on Stella Adler Technique
Degree/Cert. Offered: 2-year certificate
Length of Program: 2 years
Total Enrollment: 200
Theatre of the Arts
1536 N Highland Ave.
Los Angeles, 90028-6111
(323)463-2500
(323)463-2645
www.toa.edu
Program Description: Training for Actors with emphasis in Film and Television
Degree/Cert. Offered: Certificate: Acting Training
Length of Program: 3 years
Total Enrollment: 31 (full-time, year-round)
For more information about this program, please contact Nicole Shahenian – nicole@hollywoodchamber.net